Welcome to the Getting Cricky Blog Hop!!
We're so happy you could join us for this month's Getting Cricky Design Team Blog Hop!! Each of us, along with our
Special Guest - Heather from Heather's Crafty Blog Space
, are so pleased to have you here with us!! Along the way, you'll see NEW ideas for creating Fall & Halloween cards and MORE with Kristal's stamps sets!!
If you've hopped along from
Faith's
blog then you are in the right place!! If you are just joining me from your dashboard, or reading this via email, please be sure to
CLICK HERE
to start at the beginning with
Kristal's blog
(you'll want to catch up on all the FUN!!)...
Each of Kristal's stamp sets benefit charity. At least $1 per stamp set goes to benefit the charity noted on the stamp set package. Kristal is donating to the following charities: Cancer Angels, Storefront Shelter for Homeless Children, Intrepid & Fallen Heroes, E. Glaser Pediatric AIDS Foundation, Doorways Shelter for Women & Children (Domestic Violence), Wayside House for Women, Camp Good Days & Special Times, Adopt a Classroom, and Autism Research Institute. Kristal will donate $1 for every stamp set sold, retail or wholesale to the charity noted; and over time believes this will add up to some wonderful miracles for these special people. So you can feel good that each time you purchase a K Andrew Designs art stamp set, someone around the country is receiving some good help!
K Andrew's stamps are all made and assembled here in the USA, which is very important to Kristal. This ensures all product materials are safe and that jobs are being provided and maintained here in America. You can learn even more about Kristal's stamps (and pick some up for yourself) by visiting her online store:
K Andrew Designs
:
**Get 20% OFF on all stamps by using this code:**
20ILDI
Kristal's THREE newest stamps sets are LARGER sets -- perfect for cards, layouts, and so much more... For more details or to make one these sets YOURS, please click on the preview:
For my project, I'm featuring the Fall-o-ween set.
For this weeks project I had to step outside of my comfort zone! I am not a big fan of Halloween but once I sat down and started, I could not stop!!! Please note that all of Kristal's stamp sets (some are shown above) are interchangeable, this means you can use any stamp from one set and match it with another stamp from one of the other sets!!! And for all of you joining us for the Getting Cricky Blog Hop, Kristal is offering
20% OFF
on any of her sets, just use this code at checkout:
20ILDI
Isn't she just the cutest spider you have ever seen??
I used Stampin Up paper for the base and for the shadow image and for the white spider web I used a glitter paper.
I used my Mesh embossing folder for some texture.
I cut the image @ 4 1/4" from Cricut's Mini Monsters cartridge.
Peachy Keen stamp for the eye's.
Eeek! from Kristal's Fall-o-ween stamp set.
Purple stone brad from K&Co.
This was just a qick card I made using scraps and Kristal's stamps!!
The spider is too cute to scare anyone!!
BLOG HOP CANDY!!!
I have some blog candy for one lucky winner! Just a little something for one lucky winner to get your Halloween/Fall juices flowing!!
All you have to do is:
1) Leave me a comment on what you are doing to get ready for fall. *REQUIRED*
2) Become a follower of my blog and leave me comment that you are.
3) Follow me on Facebook
(Click here)
and leave me a commet that you are.
That gives you 3 chances to win!! The winner will be chosen on Monday (9/19) by Random.org.
Good Luck to you all!!
**Also don't forget to to check out Kristal's stamps and use discount code 20ILDI to get 20% OFF!!**
I hope you have enjoyed today's creations and I hope that I have inspired you to
"Step out of your comfort Zone"!!
Thanks for playing with us this week! Happy Craftin to all!!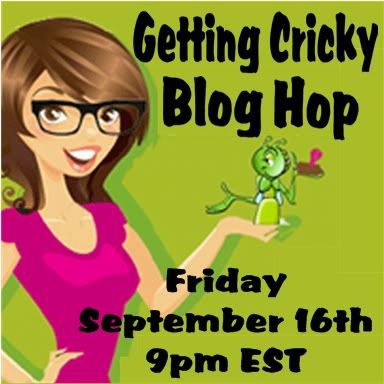 ........................................